IOT AND APPLIED DATA ANALYSIS:
EHEALTH, AGRICULTURE, SMART CITIES, INDUSTRY…
All sectors

PCB design and prototyping
Firmware programming

Backend / Frontend
Data Visualisation
Web & mobile development

Previous steps
Converting data into knowledge
Artificial engineering
Solutions adapted to every need
News at Encore-Lab
Blog, Encore-Lab News
What's new at Encore-Lab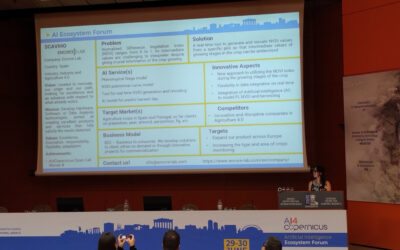 Encore-Lab participated in the #ArtificialIntelligence #EcosystemForum that took place in Athens, Greece. The head of the data department, Rocío del Campo, shared the results of the SCAVIHO (Scalable vegetation Index and Harvesting Forecaster) project developed within...
The Company
Analyse, Design, Implement

Integral solutions
We develop end-to-end IoT solutions achieving a seamless
a perfect integration of software and hardware.

Tailor-made development
We create IoT technologies to solve
specific needs of each sector.